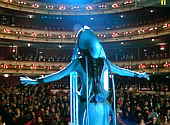 Black Flame's patented natural color technology is an exciting new concept in front projection screens that when combined with light fusion technology, provides a visually awe inspiring front projection experience. Projection home theater has never been seen in a better light, literally.

Black Flame screens deliver the plasma-like screen experience to your home or place of business at sizes plasma could only dream of. And with its natural color technology, at cost effective prices that plasma could only dream of as well.

Lights on or lights off, Black Flame breaks through past & present myths of front projection being an expensive endeavor for those lucky few with dedicated (dark) theater rooms. Black Flame dispels the notion that front projection can't compete with the color vividness of richness of plasma. With Black Flame's naturally color technology, no longer must you purchase a projector that costs half of a small car and a screen that costs the other half.

Black Flame brings front projection to any wall in your home, whether it's your living room, family room, bedroom, or den. Black Flame brings the "WOW" factor to your sport's bar or place of business and keeps patrons coming back for more.

Never before have 'lights on' and daytime viewing looked so good and cost so little. Never before has controlled viewing been so uncompromised by the ambient technology.