Space - A projector can be mounted on the ceiling or set behind the viewing area on a shelf or table. The screen can be mounted to a wall, recessed into the ceiling or the floor. This leaves much more floor space and al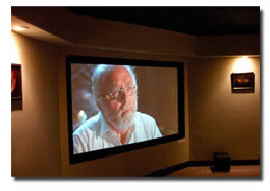 lows for more living space.
Cost - Cost is comparable. A good large screen TV will cost from $3,000 to $5,000+ dollars. A projector and screen combination can cost as little as $3500.
Versatility - A projector provides many options for viewing versatility. You can mount it permanently in your living room or TV room or you can move it from room to room. Big Superbowl party at your neighbors? Take the projector and screen (or just project it onto a blank white wall). You can set it up outside in the summer and watch movies under the night sky.
Viewing area - With a projector and screen, you can get up to a 30' viewing diagonal. A zoom lens and focus allow for different sizes in different locations. Different placements within a room will allow for various screen sizes.
Options - A projector can be plugged into any device that uses RCA, VGA or S-Video cables. Plug your DVD player into it to watch movies. Plug it into your home computer to surf the internet as a family. Watch video games at life size when you plug it into your game machine. Digital Satellite Systems, TV's and camcorders can all be plugged into your multi-purpose proje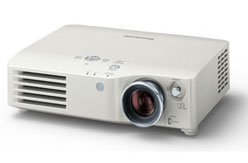 ctor as well. It can be plugged into any device that uses a RCA, VGA or S-Video cables, and most newer projectors have DVI or HDMI capability as well.
Ease of use - Projectors are ready to go as soon as you open the box. Plug it into power and then plug it into your viewing device. No additional setup or convergence required.
Clarity - With a projector, you will see no visible pixilation as you do with your current television set. This makes for a better, clearer viewing image.